Plans for Chuck's
Purple Martin House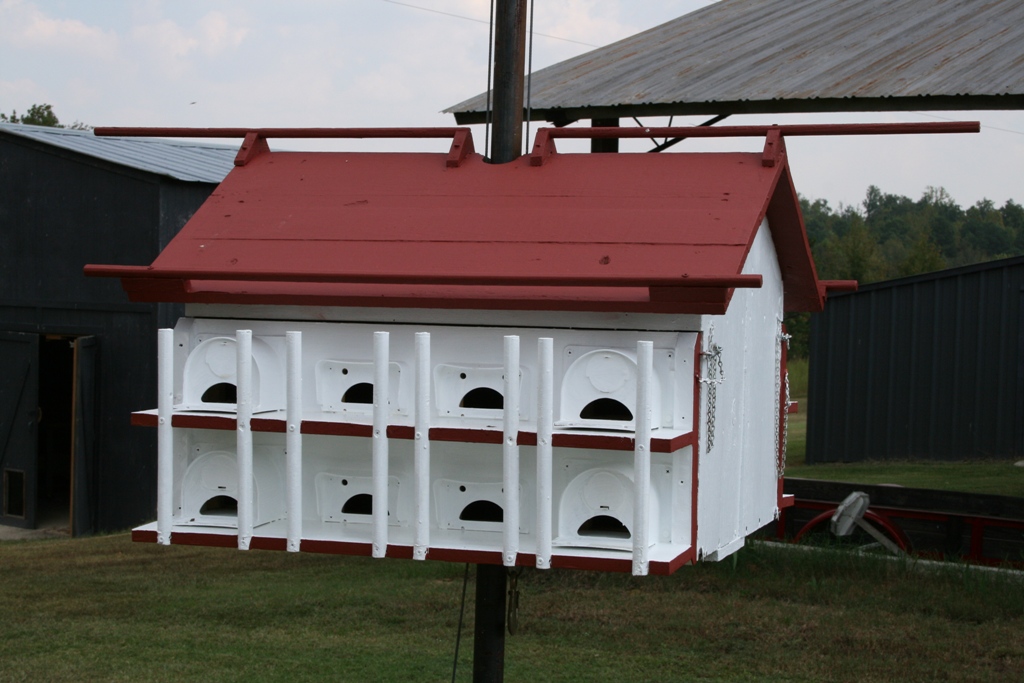 Over the years, I've been asked many times where people can get plans to build a Purple Martin house and usually I sent them to a site that had plans for a basic house plus I usually supplied a few corrections that needed to be made to the plans so that it would be suitable for purple martins. Not being able to do much more than that, people were left to their own accord to take it from there.
Still, even though the house would work, I wasn't really happy with the design. The house design was very basic and didn't have the ability to easily access the compartments for nest checks or maintenance, and I just didn't know how to tell someone else to make the changes to do it themselves, so I decided to sit down and design a set of house plans myself. Since all martin houses are basically boxes with compartments in them, it was just a matter of doing the numbers for a 2 story house with compartments that meet the latest standards and then designing in some structure so that it allowed the front face to open up for access. However; these are not just another set of house plans. I decided to add in the option of allowing for the house to fit over a round steel pole and thus, allow the house to easily be raised and lowered for nest checks and house maintenance.
Since man was introduced to the purple martin, they've been supplying housing for them, but not knowing any better, most of the time the houses were simply boxes with dividers built into the house and holes cut into the front. At the time, not too much was known about the purple martin, its nesting habits or nesting requirements, so not much care was taken with the building the house. Then, the house was usually hard mounted on top of a pole somehow and the martins were left to their own devices to nest and survive. Also, those early houses were often built without the ability to access the insides of the house so that it could easily be cleaned out and maintained. Nest checks were unknown in days past, so that feature wasn't incorporated into many of the designs available, either.
Unfortunately, as of late, two major pest bird species, the European Starling and the English House Sparrow invaded America and, having the same nesting requirements as purple martins, soon took over any available housing and actually eliminated the nesting of martins, the very bird the house was built for. The landlord, not knowing any better, allowed them to live in the house and in so doing, put any martins that might have moved in under much stress and peril, if they stayed at all.
However, in recent years, education about the purple martin has increased greatly and we now know much more about this beautiful bird species and its habits. We've learned much more about attracting them, hosting them and what is required to keep them safe while they are in our care. Within the last 20 years, many house manufacturers and designers have incorporated the features that will enable the landlord to tend to his martins with ease, such as performing house maintenance, evicting pest birds and of course, the performing of nest checks enabling him to see how his colony is doing. Also, many of the more educated house manufacturer's have incorporated the SREH entrances to keep at least the starlings out of their houses.
Below is the house that I designed. Following are some of the features that make it a house designed with purple martins in mind.
The house-
-is made of Western Cedar, a wood with good wood working qualities and thermal characteristics.† Cypress, if available, can also be used.
-was designed to fit around a steel pole, allowing the landlord to use a winch to easily raise and lower the house.
-plans come with multiple entrance hole options, including the option to add pre-molded plastic inserts as shown here.
-has spacious 6 1/2" Wide x 5 1/2" High x 11.00" Deep compartments allowing for large broods that can back out of the way of predators.
-has front doors that enable the entire front of the house to be opened, easily allowing for nest checks, cleanouts and maintenance.
-has owl guards built into the design.
-has the ability to add roosting perches.
-actually looks like a house.
-plans come complete with full materials list, building, assembling and mounting instructions.
Take a look at the following photos and see what you think...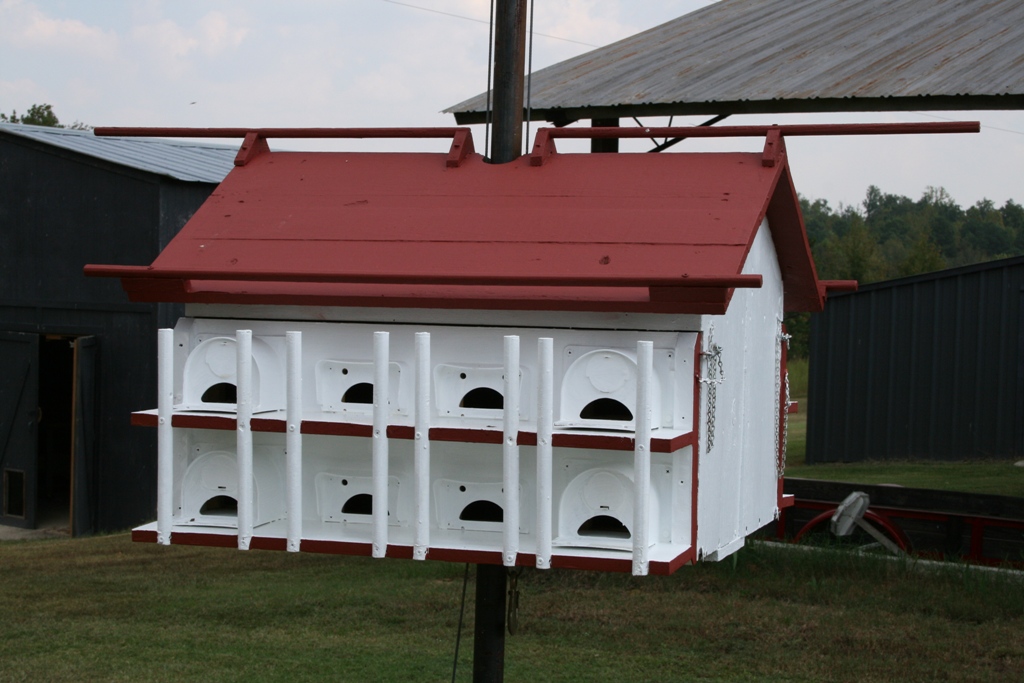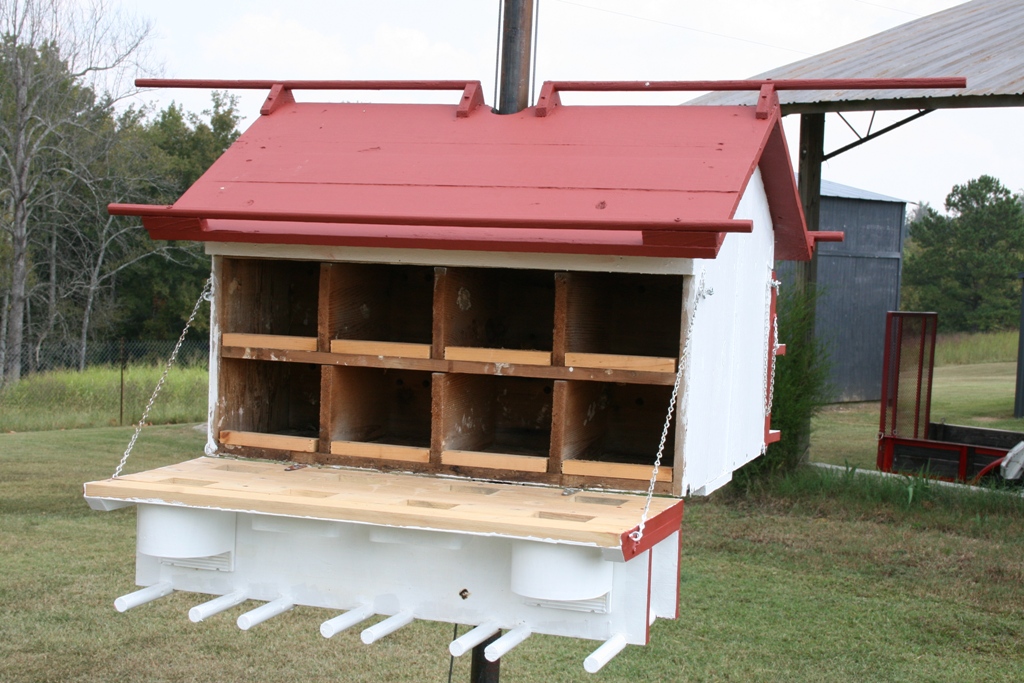 As with any martin house, itís painted white with a trim of a different color. The color here matches the trim of our own house, but of course it can be painted any color you like. There is a space above the nesting compartments that allows for air to flow through the house thus helping cool the attic.
And, since we have Great Horned Owls in the area... Owls can be a very destructive bird and I designed a set of guards right into the house design to keep them at bay.
If you would like to build this house, the complete set of plans along with the instruction sheets are available. (See below)
You will be required to locate and purchase the ground socket; 1 7/8" O.D. schedule 80 pipe; winch with cable; top pulley and mounting brackets.
Please note:
If youíre interested in using the exact same safety brackets and pulley that I use, I have made them available again.† Simply click on the ďPulley KitĒ link in the ĎContentsí section of my page and everything on how to get them is there.† I have them professionally made.† A little expensive, yes; but the quality is there and they will last a lifetime.†
Also note, these are made to fit the pole called out in the plans and will not fit any other size pole.
However; the plans I send give details of how to make the pulley and brackets if you prefer to make your own.
Iíve converted the house plans to PDF format, therefore, I send them to you via email and you simply print them out on your home printer.†
IF you do not have a home printer, simply transfer them to a thumb drive and take them to someone or some place that has a printer.† (Staples and Office Depot both have printing services).† Since Iím sending them by email I MUST have an accurate email address.
There are Two Options to get them.†
And Please Note:
Regardless of which option you use, I need an alternative method in which to contact you in case there is a problem so please add a phone number.† The reason; because every once in a while a problem arises (usually a non-working email address) and I need an alternate way to contact you, thus I ask for a phone number.
Option 1: Pay with PayPal ...easiest and fastest
Send $10.00 using PayPal and Iíll send a PDF of them to you via email and you can print them out.
Pay to: chuckabare@earthlink.net
On the PayPal form, please state that you want House Plans and the email address that youíd like them sent to.† Iím usually able to get them out within the same day.† And please include a phone number on the PayPal form.
Option 2: Paying for the plans other than PayPal
Not everyone has PayPal, so simply send me $10.00 to:
Chuck Abare
18765 Wells Rd
Athens, AL, 35613
On the request, please state that you want house plans and of course, a correct email address and Iíll email the plans to you.
And donít forget a Phone Number
I'm sorry, but this is not a business for me and thus; I do not have automated ordering software.† I send them to you personally.
If you still have questions, please email me: