Purple Martin Gourd Rack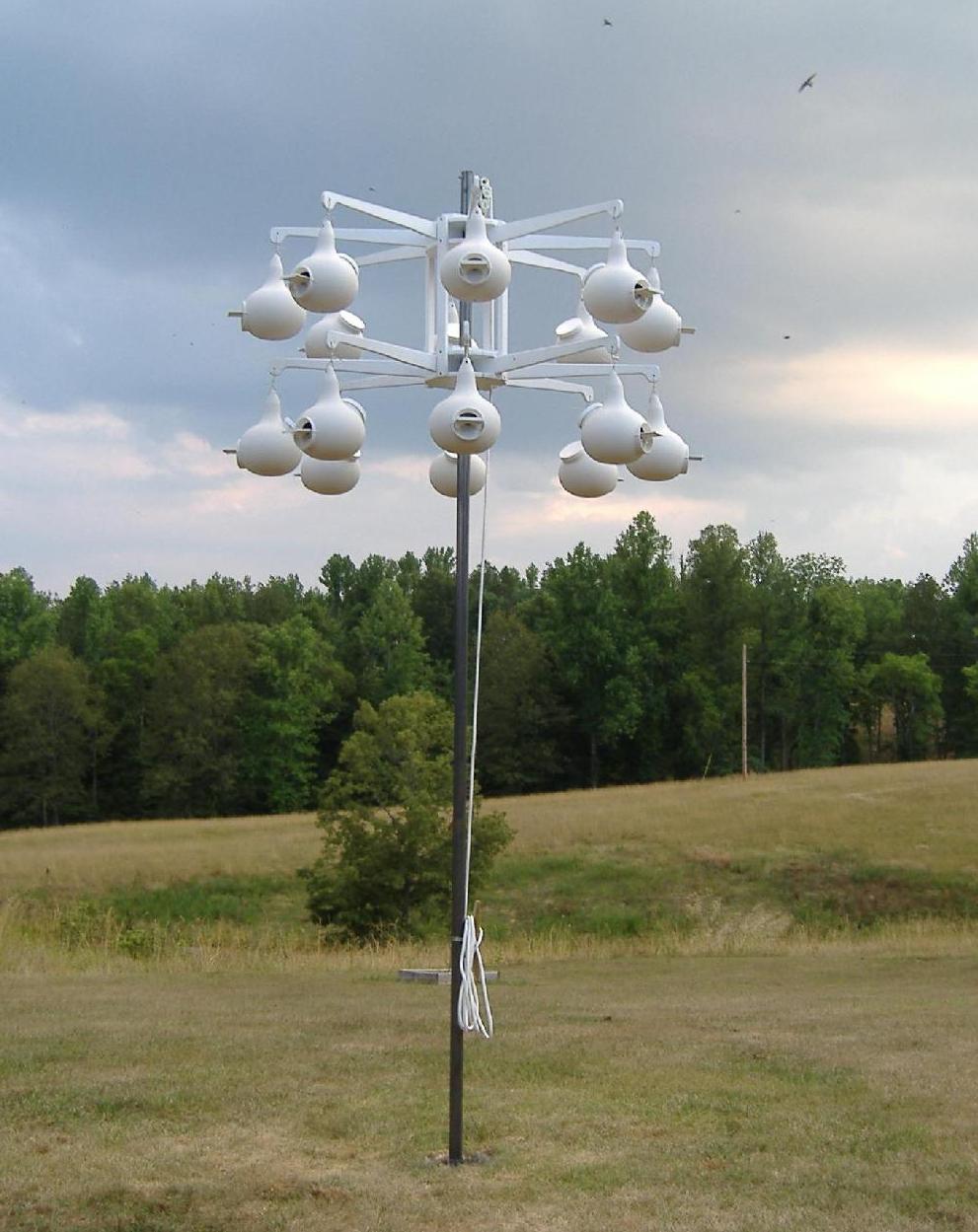 The picture you see above is a gourd rack that I designed in order to make it easier for me to perform maintenance on my gourds plus, allow me to do nest checks on my martins while they are nesting and raising young.
Please note: I am not a professional photographer, so please forgive me if the pictures aren't very good, but at least you get an idea of how the rack looks with 16 gourds hanging on it and that the rack does attracts martins.
If you've investigated the Purple Martin Housing Industry and decided that a commercially purchased house wasn't what you were looking for, then maybe this system might be. There are many different versions of racks that are used to hang gourds for purple martins and most will do the job, but this one is a little different. I designed this rack to be light, and because of the pulley system, easy to work with and in just about anybody's' price range to build. It's easy to build with only the most basic of power tools, (drill and jigsaw) and I made the drawings so that just about anybody can read and understand them. And, best of all, it will attract purple martins. Want proof...
<![if !supportEmptyParas]> <![endif]>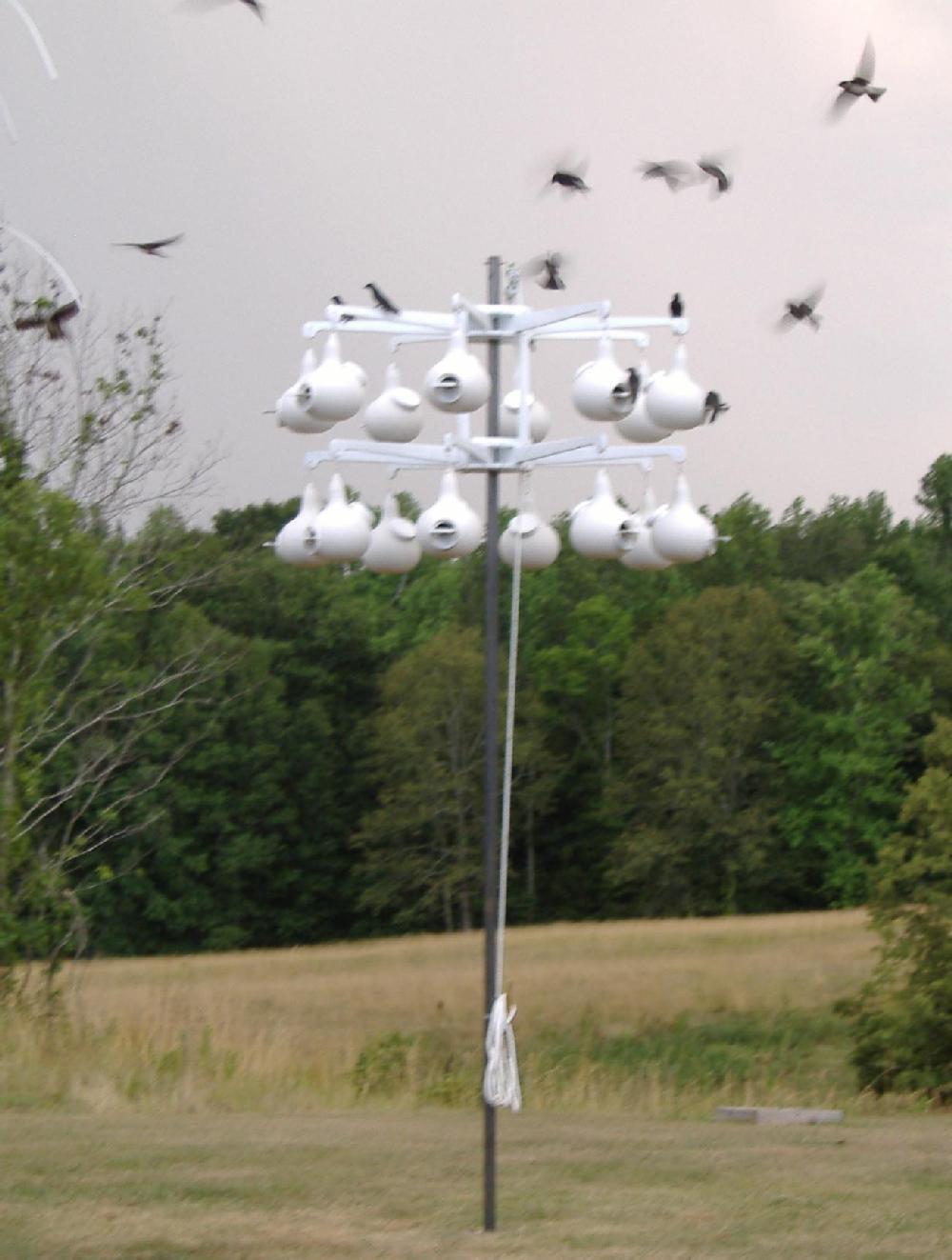 Some people like the houses. I know I do, I actually have 2 of them in my colony! However; I also like gourds and so do the martins.

The system you see above is one of many in my yard near my home. I developed it because I wanted the ability to easily do nest checks and do maintenance. The first gourds I put up happened to be on a 'T' shaped pole that did not come down easily and therefore, maintenance was a very big problem. I couldn't get at the gourds to take care of them. I even had some sparrows move into one of the other gourds, and I couldn't easily get to them to remove them. There just had to be a better way. So, I went into my wood shop, sat down in the doorway and watched the birds and looked at the pole and thought about it. If I couldn't get up the pole to get to the gourds, why not bring the gourds down to me. With that in mind, I thought about a system where I could mount my gourds and yet, get at them easily to perform maintenance on them. At the same time I wanted them to be aesthetically appealing thus; my slide system for my Martin Pole you see above.

Now I didn't come up with the idea of putting up gourds. I also didn't come up with the idea of raising and lowering them. I just refined it so that the maintenance of the unit is quick and easy, while at the same time, low cost and attractive. And, not only did I want it to look good to me but I also wanted it to look good to the martins.  The unit is easily accessible from any direction for the martins, which is a big plus. The system is lightweight, but strong and will mount 16 gourds on a steel pole. Everything to make the unit is readily available in your local lumberyard and hardware store, except the gourds, and they are usually available with a little inquiring around. If you want manufactured plastic gourds, then the ones shown are from S&K Mfg.  They are called the Big Bo's. I like them because they are a very good gourd and the entrances can easily be changed out.  You may prefer a different kind, but regardless, they will fit the rack.

<![if !supportEmptyParas]> <![endif]>

If you're more interested in natural gourds, then here's a link to people that grow and sell them.  Gourd Suppliers. When you do order some, purchase a few extra. Being natural, sometimes they need replacing and it's always good to have a few extras around. If you really get into it, and you have the room, you can keep a few seeds and grow your own. As far as making the natural gourds into martin housing, this link will tell you how to do just that.  How to make natural gourds into Martin Housing.

The costs of building the unit is going to vary depending on the area where you live, the price of the materials for that area, and the amount of work you want to put into it but I would guess it'll be around $100 give or take a little.  The gourds would be extra of course and will depend on which kind you buy and want to use.  And once you finally do get a colony started, it will be worth every minute of work and every penny you spent to just sit back and watch them as they effortlessly float through the air eating insects and thus making life a little better for you.

If you'd like one, you can build one.

What I've done is put together a small drawing package in PDF form that explains all you need to know to build a Purple Martin slide system and mount it on a pole and start your own colony. All the details and instructions required to build and erect one of these units is contained in the PDF.

It includes a complete itemized list of materials, drawings and assembly procedures for assembling the entire unit, instructions on what size pole to use, how to put the pole up and how to attach the slide and gourds to it. There's even a few maintenance tips for the pole, gourds and wooden parts.

If you like the way this system looks and you're interested in building one, here's 2 ways to get the plans.

One:

For those that don't have PayPal, you can simply send $10.00 to the address listed below and I'll send you an email with a PDF of the plans attached and all you have to do is simply print them out.

Chuck Abare
18765 Wells Rd
Athens, Al, 35613

Because I'm utilizing Email to send the plans, I MUST have your email:

And please, include a phone number. Sometimes things just don't work right and I need an alternative way to contact you.

Two:

For those that have PayPal, you can pay online with PayPal

Send $10.00 with PayPal to: chuckabare@earthlink.net

And of course don't forget the email address…

and a 'just in case' phone number.

Pulleys and Rope mounting kit:

For those that are interested in using the same pulleys and rope that I use, I also have a package for that. I believe in using quality materials in building my racks, and these pulleys and rope are good stuff. The rope actually has UV inhibitors in it so that it will last longer out in the sun.

The kit includes:

1 - Double Pulley/Eyebolt assembly

1 - Single Pulley

1 - Hook Bolt for the rack

1 – Hand Made Rope Tie/Pole Clamp

1 - 50 foot length of 3/8" diameter rope for the system

If you would like the complete kit, send $75.00 to the above address or pay with PayPal

and I'll ship you a kit.

Please add a note stating exactly what you want so I won't mix things up.

Might I also add, this system is very light and because of the pulley system, can easily be raised and lowered by folks that may be slight in stature or maybe a little on the older side like myself. There's no pinching of fingers like with telescoping poles. There's no tipping of the gourds like on poles that pivot to lower them for inspection. If you'd like one, but for some reason, don't have the ability to make one, check with a friend that might be able to do it for you. Most everyone knows someone that has a garage, a few basic tools and the know how to read basic drawings and build a basic structure like this.

<![if !supportLineBreakNewLine]>
<![endif]>