Add Winches To Steel Poles
Without Drilling Holes
One question I've gotten a number of times is, "Doesn't drilling holes in steel pipes weaken them"?
Well, the answer is, yes, it does. But let me also add, it's probably not enough to do any real damage. However; because it's so low on the pipe, like down where the winch is located, it does affect the structural integrity of the pole. And of course, there is all the labor of drilling the holes and making sure that they are aligned properly with the top pulley. And...once the holes are drilled, if you ever decided you wanted or needed to change the winch, you are stuck with those holes.
Wooden Martin houses are very heavy and require winches to raise and lower them, so...on this page, I'll show you two different options to add a winch to a steel pole without drilling any holes. And, I might add, the two methods I'm about to show are much easier than drilling holes in Sched 80 steel pipes.
And one note. I'm sorry, but I still haven't figured out how to add a pulley to the top of a pole that gets a martin house 'without' drilling holes. The top pulley for a house needs to be right in the middle of the pipe to center the load and to do so, 2 holes have to be drilled so the brackets can be added to hold the pulley. A lot of folks are having problems finding pulleys and making safety brackets to mount to the top of the pole and because of that, I've had a number of requests if I sold the ones I use, SO... go to this page http://chuckspurplemartinpage.com/pulykit2.htm and I tell how to get a kit with brackets, pulley and all mounting hardware. These are the exact same ones I use at my site. They will be added to the pole before it goes into the ground.
Now, let's tackle adding the winches to the poles:
For the winch mounting, I'm going to show you two different ideas, one from myself and another from Don Gum, out of Virginia. It will be your choice to choose which idea you'd like to use. I'll also give you all the information to acquire not only the winches, but the brackets to mount them to the poles.
Method 1
First thing you'll have to do is get a LIFTING winch. This might be a challenge in itself, but some hardware stores do have them. That way, you can actually hold it in your hand and see what you're getting.
But if you can't find one local, they can be ordered from my 'favorite' on-line hardware store, McMaster Carr. Fast and prompt, this company is a treat to deal with. No, I do not work for them, but when I find a 'good' place to deal with 'on-line', I have no problem passing it on and this place is one of those.
http://www.mcmaster.com Once you're there, bookmark them. They have anything and everything you could possibly ever need to do with hardware.
One note here: Unfortunately, McMaster Carr will not ship to Canada. Don't know why for sure, but apparently the paperwork to get things into Canada is too much to deal with.
And, Granger will not sell to anyone that is not a company, so I've removed any references to do with them.
Okay, once on the McMaster Carr home page, in the search (find) box at the top of the page, enter 3196T56 and you'll be brought to the main page for lifting winches and the winch listed will be displayed for you.
Now please let me explain one thing. They use the term "ROPE" a lot. What they are talking about is WIRE ROPE, (steel cable) not the normal nylon or fibrous rope we usually refer to when we say 'rope'. ANY kind of nylon or fibrous 'rope' should NEVER be used on a winch that is raising or lowering a martin house. That is just asking for trouble and someone is going to get hurt.
The winch I recommend is a lifting winch with a free spool brake, uses 3/16" cable, is rated for 800 lbs, and comes without cable on it. However; they also have winches that come with the cable shown to the right of that (if you want to pay their price). Simply order the amount of cable you require. Never order a winch that is rated for less than 800 lbs.
The reason I order the bare winch, I also just happen to have one of those little Mom & Pop hardware stores nearby that, when you walk in you just say "WOW"... So I like to go down there and order the cable to put on it (and to see if there's anything else I just can't live without). That way I can get the amount of cable I want and to be perfectly honest, it is a bit cheaper. They also have all the nuts and bolts I'll need to do the job.
Now for the clamps.
Please note, the clamps listed are for Sched 80, 1.90" O.D. steel tubing (or 1 1/2" steel pipe).
Again, go to McMaster Carr and type 3006T68 into the 'Find' window. It'll bring you to the clamps shown in the photo below and you'll need to order 2 of them. These are the stainless steel versions so you'll never have to worry about them rusting and they come with the mounting bolt and nuts. Or if you prefer, there are the galvanized versions. Your choice. If your pole is of a different size, then simply select the ones that fit your pole.
And, Lowe's also has them. Look for the 1 1/2" Conduit Mounting Brackets.
Now, while they're being shipped to you, you'll need to pick up the mounting hardware.
You'll need to get 2 each of 5/16-18 x 1" long hex bolts, 2 nuts, 2 lock washers and 4 flat washers.
These will be used to mount your brackets to the winch. As can be seen in the photo, the bolts come from the bracket side thru the winch and the nuts are on the inside. Tighten them down good making sure they are nice and square on the winch.
Now, this is the hardest part of this entire endeavor.
The brackets have to be spread enough to slip them over your pole, then they have to be squeezed back together to get the clamping bolts in. If your fingers aren't strong enough to hold the clamps together, get a large pair of needle nose vice grips to hold the clamp together while you put the clamping bolts in place. It works great.
Now align the winch to where you want it, tighten down the clamping bolts and then thread your cable onto the winch, wind up the access cable and you're ready to go.
And that's all there is to it. Can't get much simpler than that.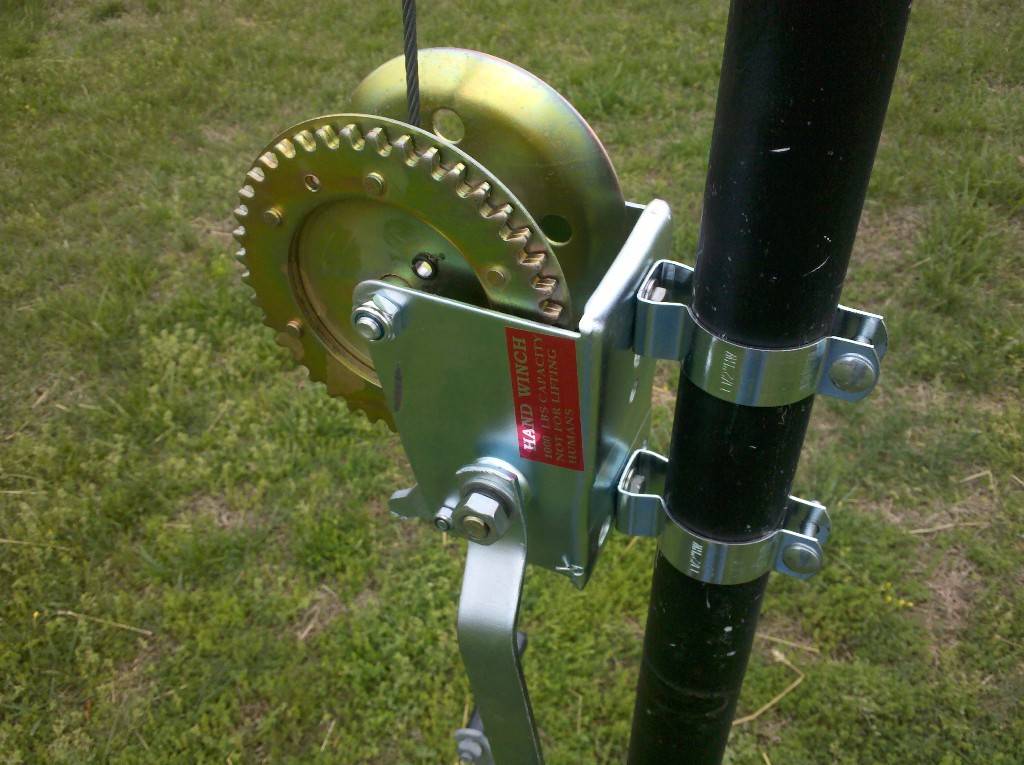 Method 2
The second method for mounting a winch is from Don Gum in Virginia. This is also a very easy method to mount your winch.
Assuming you have your winch, you'll need to go to McMaster Carr again. (Or Grainger). And yes, if you're an electrician, you probably already know where to get this stuff. Most electric supply houses carry it.
To save from everyone having to 'find' all this stuff, I've given the direct link to the exact strut you'll need for the project.
http://www.mcmaster.com/#steel-strut-channels/=btagcj
Notice that there are the struts that have the holes already cut in them. THOSE are the ones you want. It comes in a number of different lengths. After completing his winch addition, Don says that the struts should stick out one inch beyond either side of the winch, so measure the width of your winch, add 2 inches to it and then order a piece that will be twice that length. You'll need to cut it in half once you get it so you'll have 2 pieces. And temporarily set it in place and make sure your handle turns freely. It not, then shorten the pieces so it will.
Now for the clamps. Again, you need to know the outside diameter of your pole, either 1 7/8" or 2 3/8".
This link will take you to the page you need to go to for the clamps.
http://www.mcmaster.com/#strut-channel-clamps/=btajq2
Again, there are a number of different versions available. I suggest the 304 stainless steel, but it's your choice which you want to use. They come in pairs, so you'll need 2 each of them.
Stainless f/ 1 7/8" OD = 3115T46
Stainless f/ 2 3/8" OD = 3115T47
Now, it's just a matter of bolting the struts to the winch and then the winch to the pole. And to mount these struts to the winch, you'll need to get 2 each of 3/8-16 x 1" long hex bolts, 2 nuts, 2 lock washers and 4 flat washers.
Since pictures can say more than words ever could, look at the following photos that Don sent and simply follow them.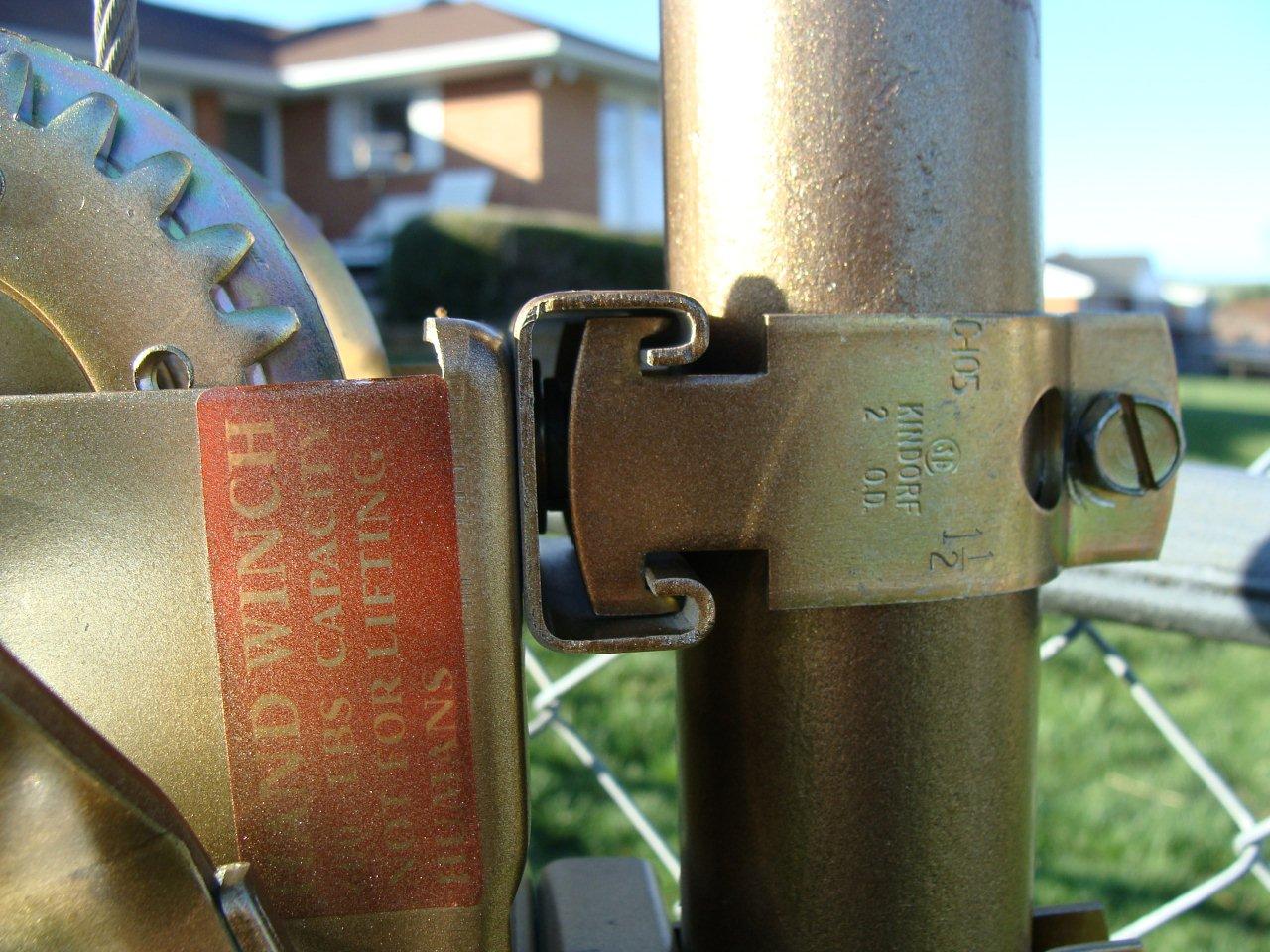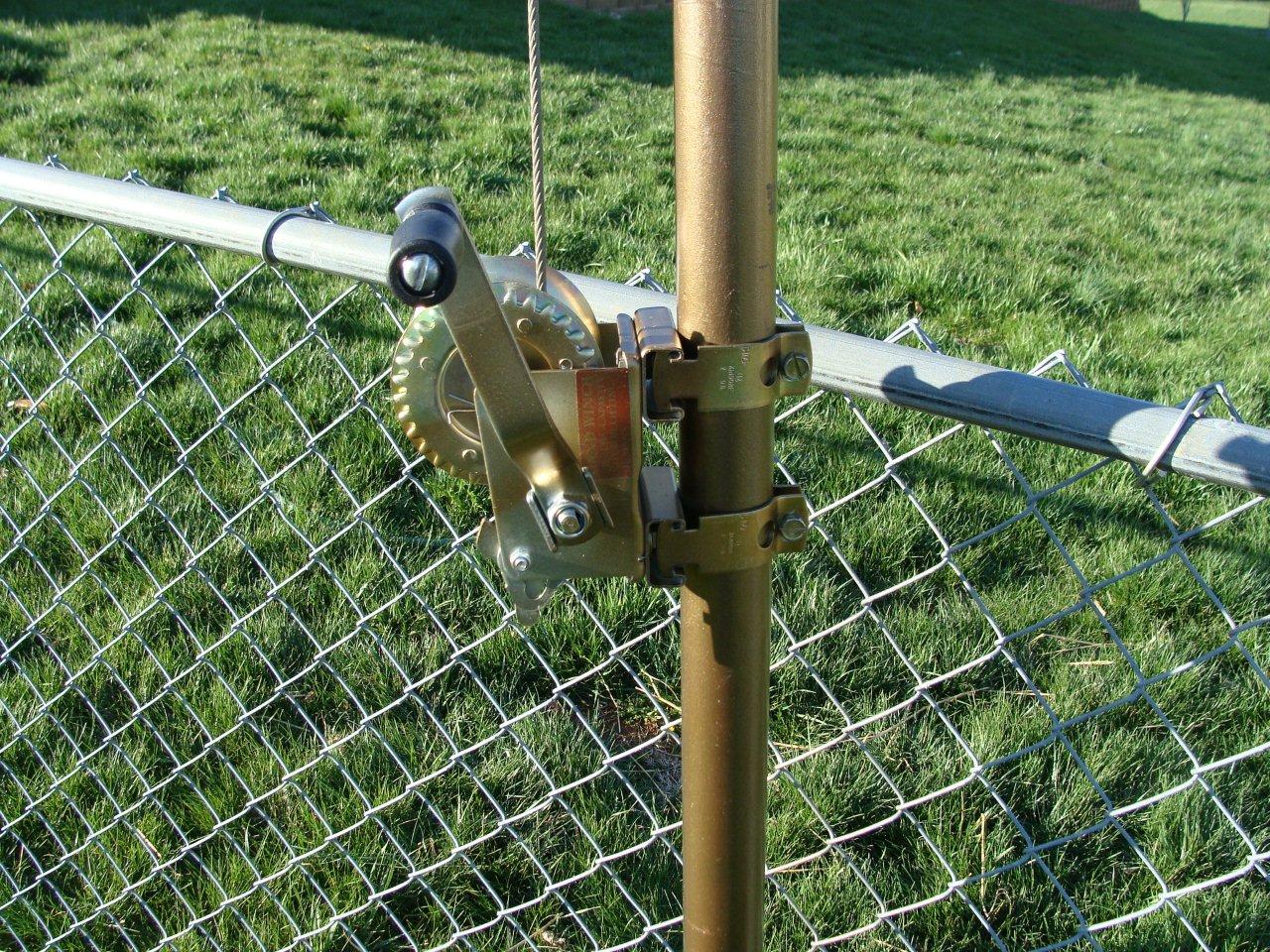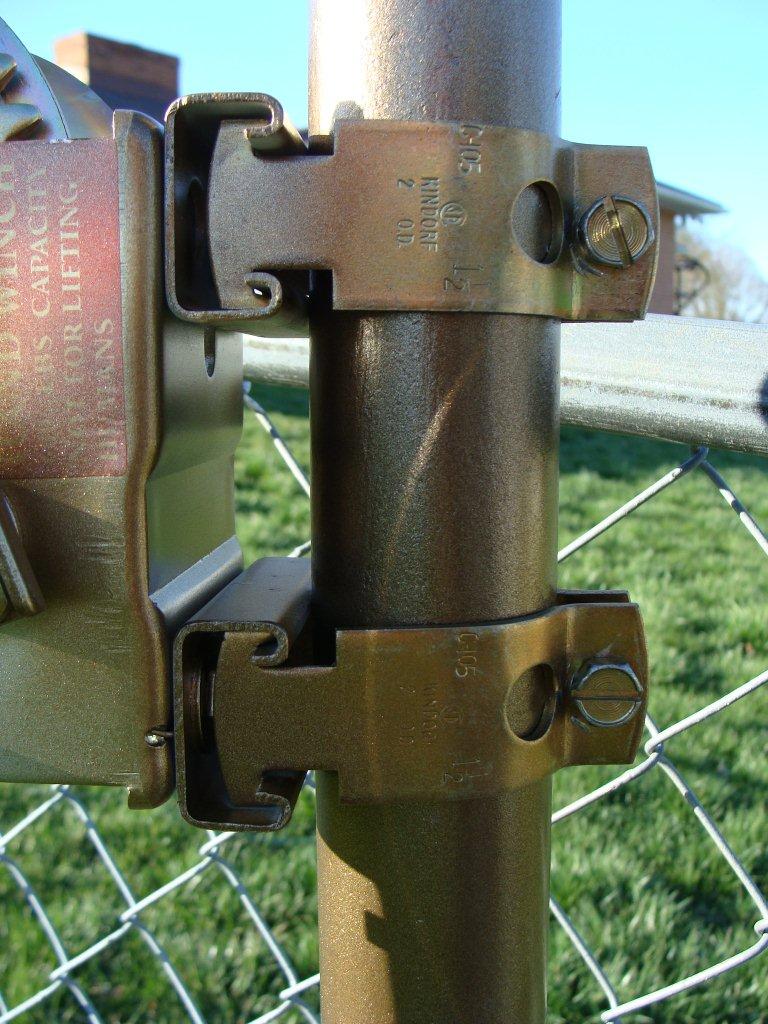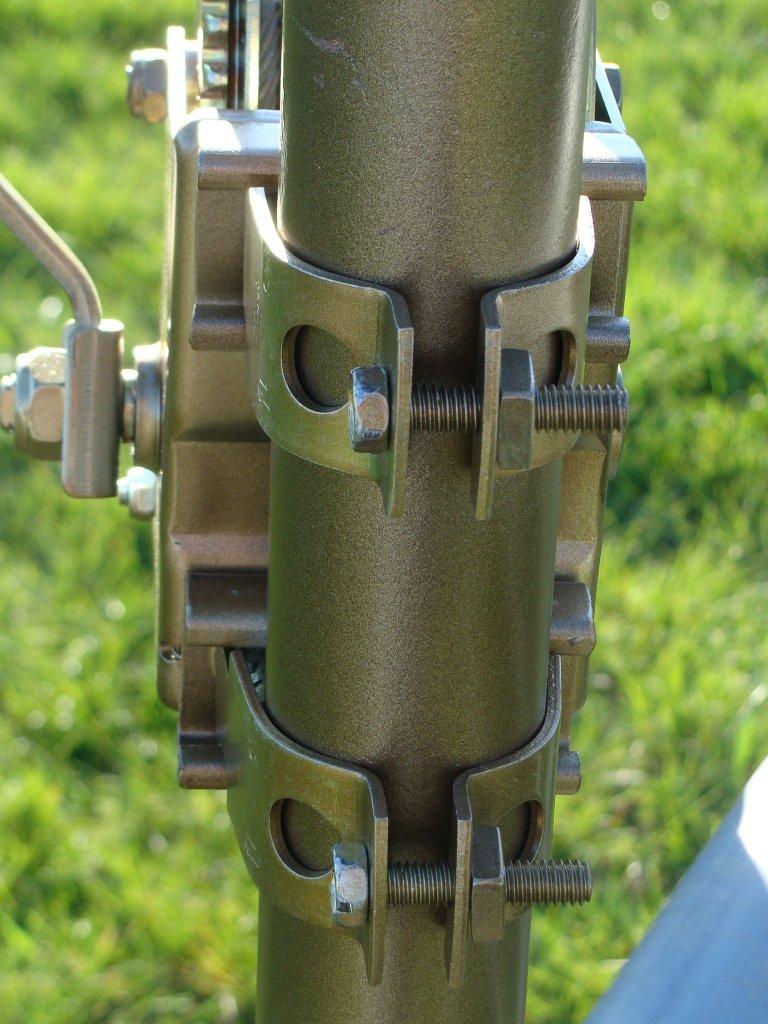 Now, how easy was that? No drilling holes!
AND... in either of the above cases, if for any reason you ever need to move or relocate the winch, it's a simple matter of loosening a couple of bolts, relocating it and then tightening them back down.